Food is a vital part of Nepal's culture. Nepal is known for its cultural diversity. Moreover, every Nepal culture has a different yet unique cuisine. There is a wide variety in it. Many of their dishes have mouthwatering combinations of outstanding flavors. Soups, lean curries, veggies, salads, lean meat, pickles, and curd are among the often-eaten foods. Tomatoes, chilies, coriander, garlic, and mustard oil are among the components. If you are new to Nepali culture, then here are some 10 delicious local foods in Nepal, from yomari to mouth-watering choila, that you must try.
Read till the end!
10 Delicious Local foods in Nepal
Maasko bara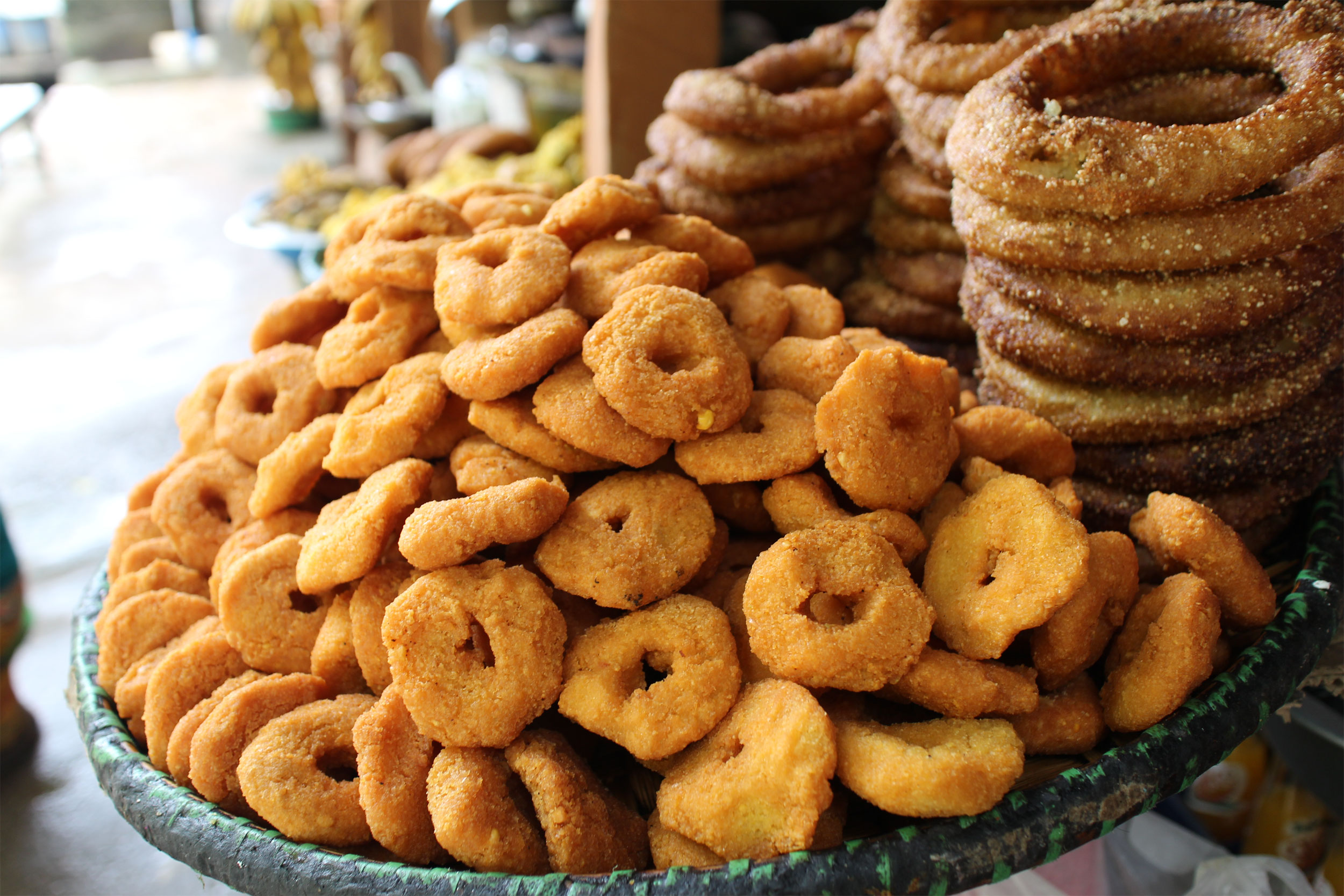 Also known as Newari pancakes, Maasko Bara is a savory Newari snack with a distinctive flavor. Fresh rice-flour pancakes made of light, spongy batter are served with broken eggs or minced buffalo meat. They are simply lentil patties and the batter can be made from both green and black lentils. These pancakes are available at Newari stores, but for the best flavor, eat them right away.
Yomari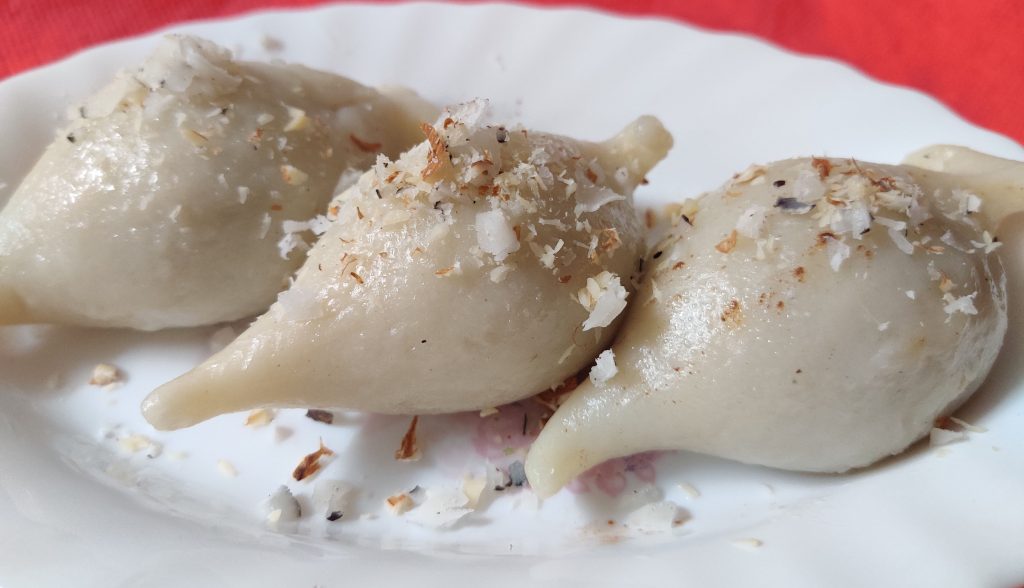 Yomari is a favorite food among the Newar people of Nepal. It is a type of steamed dumpling that has a rice flour exterior and sweet contents like chaku within. The treat is a vital component of the Yomari Punhi festival and plays a significant role in Newari society. Some people believe that the Yamari's triangular shape symbolizes one part of the Shadkona, a symbol of Saraswati and knowledge. First of all, the dough is prepared from rice flour. Then different shapes of dough are made stuffing the chaku inside. After that it this steamed and served hot.
Juju dhau
Commonly known as the king of yogurt, juju dhau is a delicious custard, which has a yogurt-like flavor and originates in Bhaktapur, a city that is very significant during festivals. Juju Dhau, a type of food that originated in Bhaktapur during the ancient Malla era, can also be found in other Newar communities' homes, such as those in the Kathmandu Valley and Patan. Likewise, Juju dhau is prepared from bacterial fermentation and is served in a clay pot.
Also, read- Top 5 Amazing Benefits of Aloe Vera.
Chatamari
Chatamari is another Newari community delicacy that is made from rice flour. Rice flour is used to create a thick batter. Its top is garnished with a variety of toppings, giving it an unusual appearance and flavor. Both veggies and different types of meat can be used as ingredients. Some people even call this Newari pizza. Not all of the restaurants in Nepal serve chatamari. If they do they mention this specifically.
Gud Pak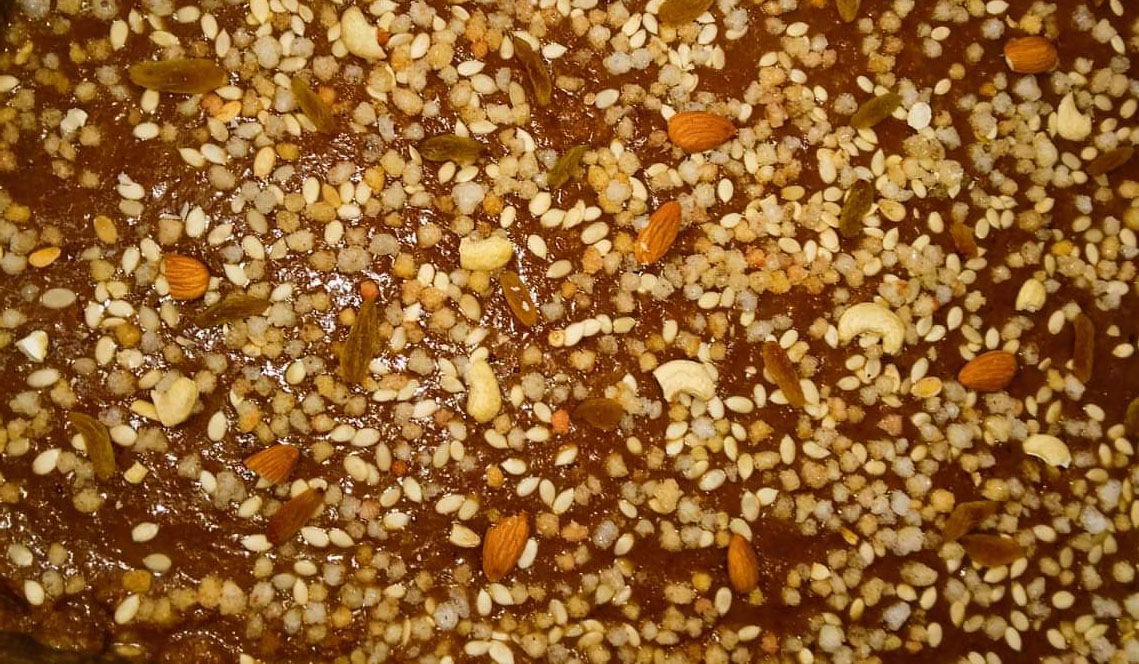 Gud Pak is generally prepared from milk and sugar. The first gud pak was prepared in a deeper pan utilizing cooking fuels like wood and a mixture of milk, khuwa, ghee, and dried fruits. Even now, the main ingredients remain largely the same, despite the switch from kerosene to gas burners. It is a famous dessert with high nutritional value. Because of this reason, it is eaten by new mothers as well. Khuwa is the main ingredient for Gud Pak. Other minor ingredients include nuts, almonds, cashews, coconuts, and pistachio as well.
Thukpa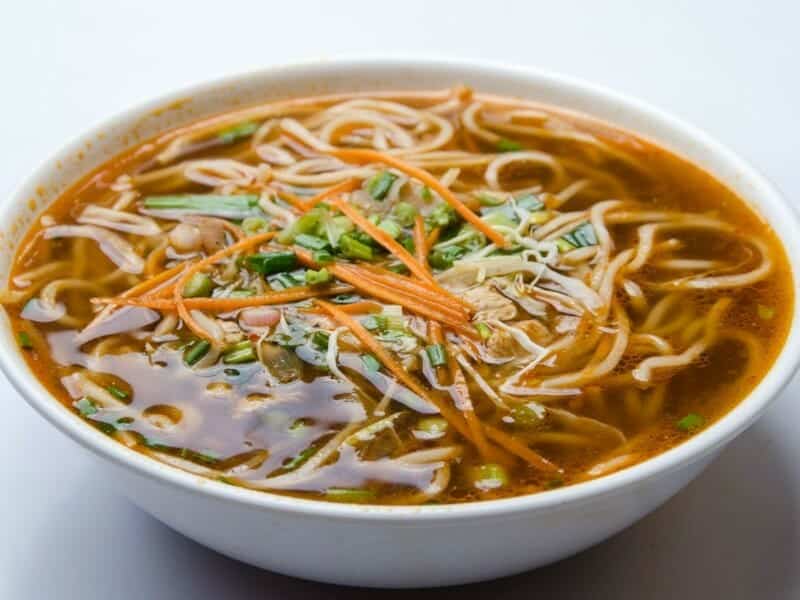 Thukpa, a Nepalese dish with Tibetan and Chinese influences, is a common dish in the Himalayan region. A bowl of steaming soup will ward off the flu. Both the Nepali and Tibetan Sherpa populations eat thukpa. Their diet is largely concentrated on carbs in order to cope with the bitterly cold winters at high altitudes. The energizing warmth of cumin, turmeric, and timmur peppercorns is added to the soup. Moreover, Buckwheat is used to make thukpa noodles in Bhutan.
Samya bhaji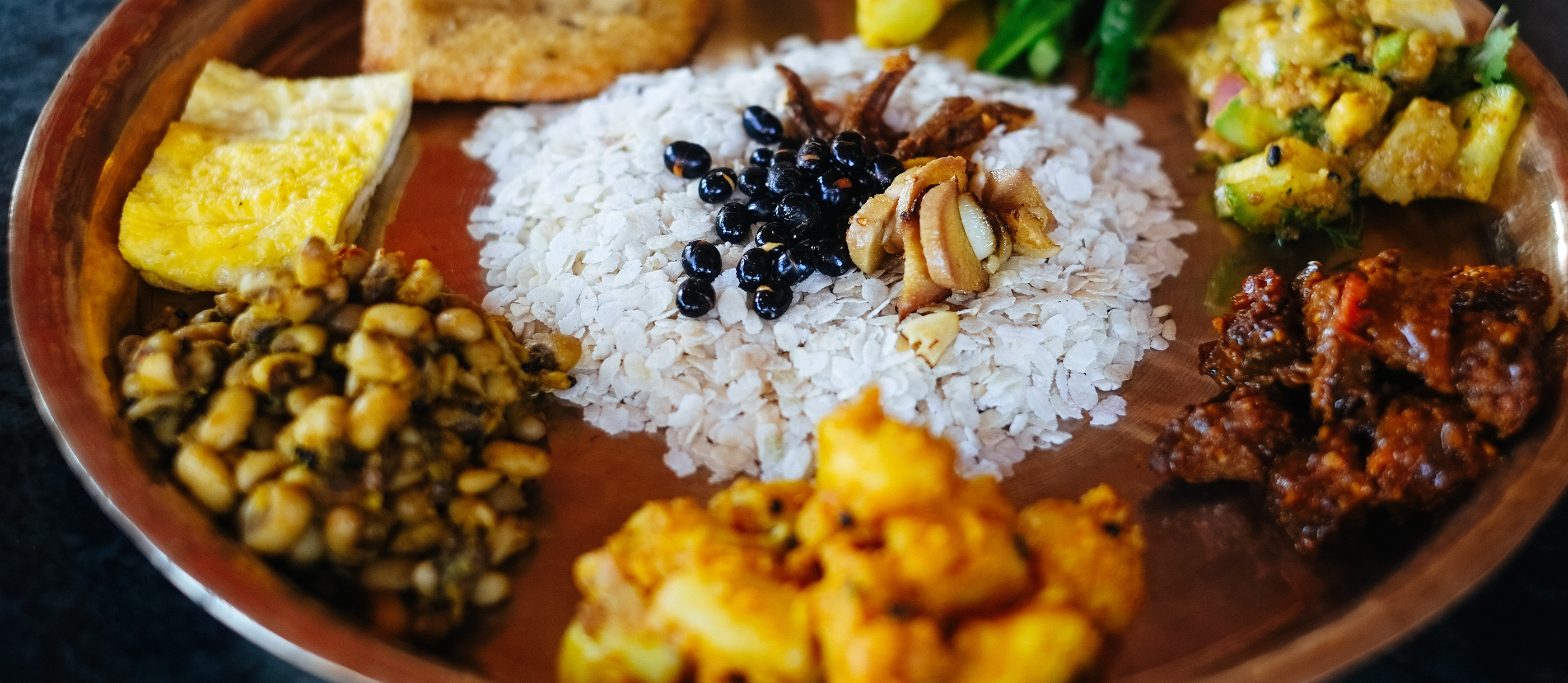 Samya bhaji is considered a typical dish of Newari culture. Despite being passed down over many generations, the public continues to value this dish highly. There is no particular time of year when this dish should be served, however, it is typically offered on auspicious occasions, at family gatherings, and at Newari Festivals. Every religious ceremony, including pujas and festivals, begins with samay baji. This is also offered during Sharada (rituals for death anniversaries). Because of its easiness of preparation and storage, it is consumed all year long. The Samay Baji is also consumed during Nepal's major holidays, such as Indra Jatra, Dashain, and Tihar (Laxmi Puja, Bhai Tika). This meal is offered at practically all of the Newari people's events.
Choila
A popular Newari meal called "Choila," also known as "Chhwela" or "Chhoyela" in Nepali is made of seasoned, grilled buffalo meat. Despite the fact that mutton, chicken, duck, and even mushrooms are now utilized in the meal, water buffalo meat is still its most popular traditional ingredient. This meal is often extremely hot, spicy, and mouthwatering and is typically served with rice flakes (chiura). It is regarded by the Newar community, along with a number of other components, as an essential component of the diet during festivals. It serves as a key component of Samay Baji.
Gorkhali Lamb
In Nepal, lamb is one of the most popular meats, and people often prepare it as a treat for holidays or special events. Gorkhali Lamb Curry is one of the various methods to cook lamb. It has grilled lamb. This is cooked in a chilly mixture. If you enjoy spicy non-vegetarian food, you'll definitely enjoy it. Check it out!
Momo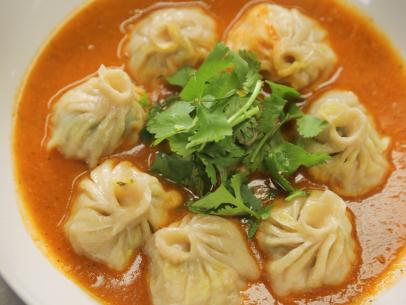 When talking about Nepali local food, one cannot ignore Momo. Momo is little dumplings formed by enclosing a scoop of filling in the dough. Momo is often steamed, although it can also occasionally be fried or steam-fried. As an intensely flavored broth is produced and sealed inside the wrappers, the meat or vegetable fillings become luscious. Momo is a staple food for both Tibetans and Nepalese, both on a daily basis and during special occasions. The dish's variations later emerged in Nepal, where Asians began to enjoy it. One can find varieties of momos such as C momo, Kothey momo, Steam momo, boiled momo, jhol momo e.t.c and each of them is equally tasty.
Special Mentions
Chaatpate
Chatpate is the last item on the list for someone who enjoys spicy food. This spicy dish from Nepal has a variety of different spices. You will experience a flavor explosion after eating chatpate. It has a wonderful balance of tanginess, sweetness, and spices, similar to chaat or bhel. Everyone enjoys this street food, especially young people and ladies of all ages.
Sel Roti and Aloo Achar
Sel roti is a traditional homemade Nepali dish made up of rice flour and is sweet in taste. It is mostly prepared during Dashain and Tihar. Despite this, it is enjoyed as breakfast every morning by most people. This is best enjoyed with Aloo achar. The aloo achar is prepared from boiled potato, cucumber, peas, and other vegetables.
Pakoda
Pakoda has become our go-to daily heart-warming snack as winter draws closer. Typically, green vegetables like onions, cabbage, and potatoes are used in its preparation. This deep-fried snack has a flavor of natural sweetness and spice and is light, crispy, and crunchy.
Jeri
Also known as Jilebi, Jeri is the most popular local street food in Nepal. It is often served as dessert after every meal.
Lakhmari
This is a sweet Newari dish that is enjoyed during the festival season and holidays. It is made up of flour, butter, and sugar. It can be found in various sizes and shapes. A very useful fact about this dish is that it can be stored for many days.
At the end!
Nepali food is not only tasty but also they have high nutritional value. They are all prepared from locally available ingredients. They are wholesome and prepared with little fat. If you are in search of some delicious local food to try don't miss those listed above. Just wander in Nepal's streets and you will find mindblowing watering dishes.
Enjoy eating!
You might also like – Are you a MO: MO Lover?
FAQs
What is the National dish of Nepal?
The National dish of Nepal is dal Bhaat.
What is the most common ingredient used in foods in Nepal?
Nepali cuisines mostly contain veggies, spices, turmeric, onion, chilies e.t.c