Are you too thinking of working from home? If yes, this article is for you.  Working from home is a complete gift because you don't have to put up with inconvenient traffic, obnoxious coworkers, or worry about getting sick because of your sick coworkers. From desks to monitors to lamps, here in this article, you will find some mind-blowing work-from-home essentials. Read till the end!
Why work from home?
Today, remote work is a trend that is gaining popularity. People frequently choose to work from home when given the option. Yet why?
Many workers claim that working remotely is advantageous to them. They assert that at home as opposed to the office, they can become more creative and productive. Your job will be more accurate if you are in a distraction-free atmosphere.
Working from home gives you more scheduling freedom and makes managing your daily life easier. Similar to how you can dodge traffic and delays brought on by bad weather, you can start your workday earlier.
Work From Home Essentials
Working from home may be an option for some of you if you are more productive alone or cannot concentrate with interruptions. But if you're unfamiliar with the idea, there are several things that are crucial when working from home.
What are they? Here are some best work-from-home essentials to boost productivity. Let's take a look!
1. 24- laptop
Despite being significantly larger than the typical laptop you use at home or in the workplace, a 24-inch laptop nonetheless occupies substantially less desk space. This monitor is the ideal choice for you if you work as a graphic designer or for an IT company. This laptop has better mage density and higher pixel density, which translates to more pixels per inch.
2. Laptop Stand
You can effortlessly modify the altitude of your laptop for improved high angles by using a laptop stand, which allows you to lessen physical pain and strain. Therefore, if you want to preserve your posture while also being comfortable, this is the one for you.
3. Desk Pad
Desk pads can increase your productivity as well as the look and feel of your at-home office. They can also help you become and stay more organized and focused. It keeps your pricey desk and things safe and lessens visual clutter. Additionally, it improves the aesthetics of your desk.
4. Six outlet wall charger
This wall outlet charger is more popular than ever, despite the fact that many other charging methods operate very effectively. Due to their durability and effectiveness, new cables are replacing out-of-date power chargers. Likewise, using these outlet chargers enhances the number of charging stations in your home and speeds up charging. Moreover, they offer a higher current and charge any electronic device fully in the least amount of time.
5. Blue- light-blocking glasses
Working from home requires spending a lot of time in front of a computer. Your vision may be affected by this. Therefore, blue-light-blocking eyewear is crucial for this. They aid in lowering the risk of long-term blue light exposure harming the eyes. They also enhance the quality of sleep and visual performance. Similarly, they assist in avoiding the age-related macular degeneration that causes vision loss. They somewhat shield us from UV radiation as well.
6. Bluetooth speakers
If you enjoy listening to slowdown, reverbed lo-fi music while working, then I can assure you that you will enjoy this. Your smartphone, laptop, or tablet can all connect wirelessly to Bluetooth speakers. Bluetooth speakers come in a variety of styles, including wireless and wired ones, Much more compact than wired ones are wireless ones. You only need some decent music in your home after you've been working at home all day and are getting bored.
Additionally, they don't cost a lot of money, they don't take up much space, and they can provide full-range sound into any area in your house.
7. Keyboard cleaning gel
As Keyboards require frequent cleaning and maintenance since they are vulnerable to corrosion damage by liquid spills and accumulation of dust and debris. The gel is fantastic since it can reach crevices and gaps that other cleaning techniques might overlook. In addition to this, It's so well-liked for cleaning keyboards because of this. However, it can clean anything else as well. It works well with phones, speakers, gaming mouse, and controllers for video games.
8. Bluetooth mouse and keyboard
Similar to Bluetooth speakers, Bluetooth mouse and keyboards give users flexibility and portability. Without a doubt, the keyboard can be readily moved around rather than being firmly on a desk. The biggest benefit of utilizing a wireless keyboard over a traditional keyboard is the increased mobility it provides.
9. Standing desk converter
Desk converters that let you sit and stand are excellent for your health. Due to laziness, it can be challenging to keep a healthy and sound health when working from home. This desk converter supports good weight management and lowers the risk of metabolic syndrome. Additionally, they boost mood and concentration and lessen back and neck pain.
10. USB- powered cooling pad
The first and most obvious advantage of using laptop cooling pads is that they can assist in lowering the temperature of your computer and preventing overheating as a result, which can be fatal for laptops. Fans built into laptop cooling pads help circulate cold air, keeping your laptop chilled at all times. Your laptop is raised as a result. The laptop cooler helps aid in the bottom-up cooling of the device, lowering component temperatures.
11. LED desk lamp
A desk lamp is essential for business and household lighting. These lamps are more effective and use less energy. This type of lamp only releases light in one direction, as opposed to conventional lamps that emit light and heat throughout all directions. The light is also quite clear and bright. Thus, the wastage of light and energy is reduced by the directional lighting and heating capabilities. The best part about this lamp is that it can be adjusted.
12. Wi-Fi extender
To strengthen your wireless connection and prepare it for the lag-free wifi network system, you need a WiFi range extender. Installing a wireless repeater could help solve the issue if you start to suffer frequent connection drops across your home or experience any network at all in some enclosed areas.
13. Temperature control Mug
It's crucial to drink enough water when working remotely. A temperature-controlling cup is useful in that situation. It enables perfect temperature control for drinking so that the liquid within is never overly hot or cold. Ember's technique improves efficiency by directly integrating the warming segments into the cup and using precision sensors to take into account specific temperature guidelines.
14. Portable electric fan
This small electric fan keeps our bodies at a comfortable temperature while also conserving electricity. They support humidity levels, guard different areas of your home from stale air, and even improve your quality of sleep at night. Additionally, these fans utilize the cooling effect of water evaporation to provide relief from hot conditions while also being environmentally friendly. Almost any establishment can benefit from using portable misting fans to provide relaxation and insulation from the intense summer heat.
15. All-In-One laser printer
The key benefits of printers are their speed, accuracy, and affordability. Because a laser can travel so swiftly, it can "write" far more quickly than just an ink jet. Additionally, the laser beam can draw with greater precision without spilled ink because its diameter is constant. Additionally, this particular type of laser printer has minimal criteria for paper quality. And using one machine to complete numerous tasks improves efficiency.
16. Noise-cancelling headphones
Are you tired of hearing your thoughts while you're working? Don't worry, then. A pair of noise-canceling headphones is all you need. Users of a headset can improve their hearing in noisy areas and reduce ambient noise and distraction by using noise-canceling speakers. Additionally, using noise-canceling headphones is completely risk-free for your health. You can use the headphones to drown out background noise knowing that they don't put your safety or welfare at risk because, unlike cell devices, they don't generate low-level radiation.
17. Desktop cable organizer
When working from home, cables accumulate. The switches, routers, and servers can't be reached because of the tangled wires. Therefore, a laptop cable organizer is necessary to minimise. The ideal cooling and airflow are made possible by this organizer. Additionally, by allowing for safer hardware installation, maintenance, or removal, effective cable management makes operating inside a computer much simpler.
18. Perfect posture back strap
The majority of posture correctors function by gently repositioning your spine and bringing your shoulders back. This assists in educating your muscles to uphold proper posture even when the device is not being used. The adjustable straps on many posture fixes also let you choose the degree of support you want.
19. Office gaming chair
The comfort of this kind of chair is one of its key advantages. A comfortable chair can be just what the doctor recommended if you're tired of experiencing lifeless legs, sore backs, or neck cricks when using your computer. Most of those are well-padded in the seat and back and adding armrests and headrests further boosts your level of comfort.
20. Lap desk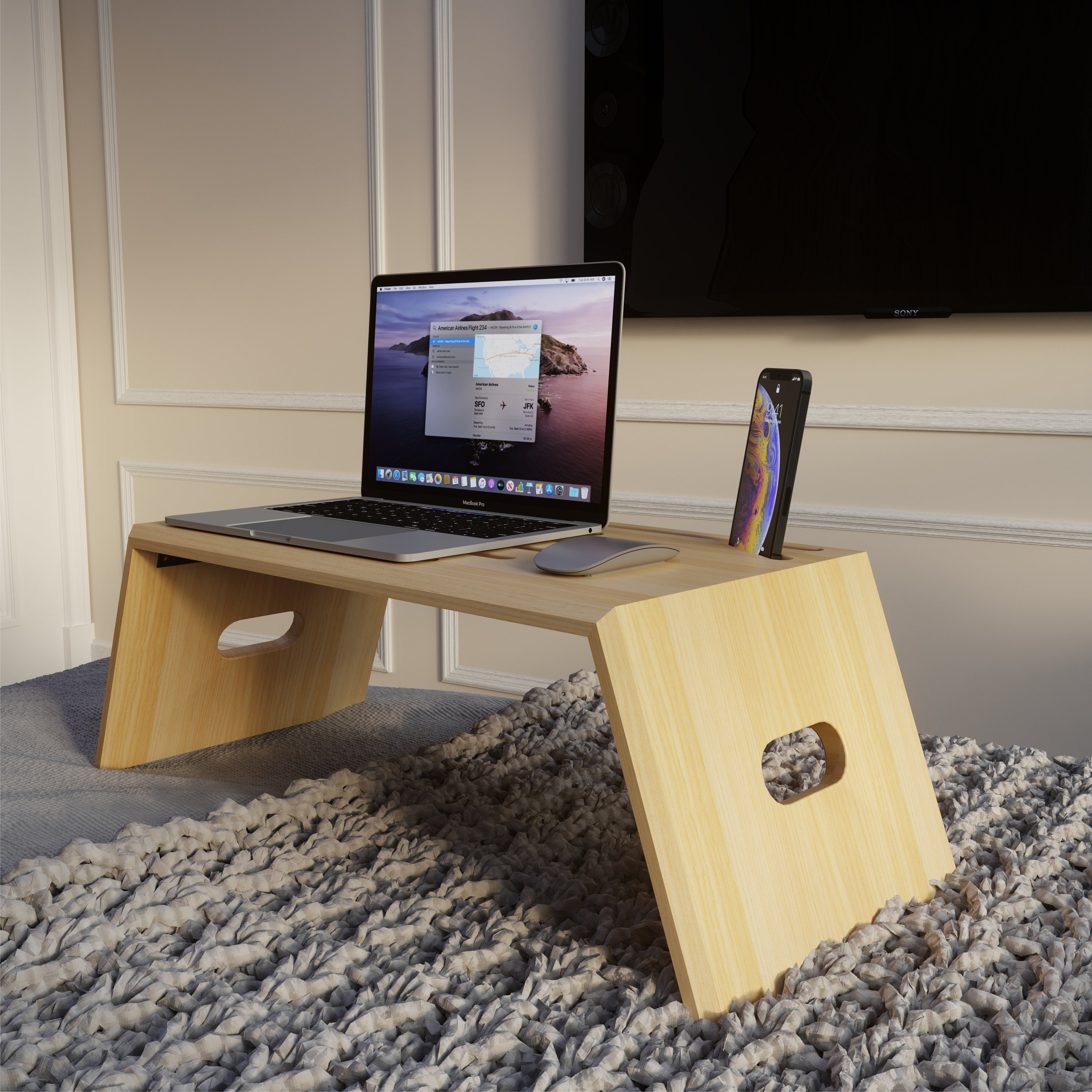 Laptop and phone in lap desk
This lap desk is the ideal choice for you if you feel the urge to work from bed. You can utilize this sort of desk however you wish because it has a bespoke setup. For about an hour or less, placing the computer on any surface or piece of furniture, such as a desk or table, is acceptable. As you should be in a position that is more comfortable and reduces strain when using a laptop for lengthy periods of time, whether for work or enjoyment.
Conclusion
The notion that working from home can increase productivity is absurd. But you may by employing the aforesaid necessities. The advantages of working from home are much more significant on a worldwide scale than you might think. Make sure you have those necessities on hand if you're new to working from home or if you already do.
FAQs
Don't we get lonely when we work from home?
Yes, some of you might get lonely at times. but make sure you go get sufficient socialization with other people and your family.
How does working from home effects psychological health?
In remote work, people miss out on the spontaneous water cooler or cappuccino talks with coworkers. These are genuinely substantial and significant portions of the day that directly affect output.
Also, read- Top 5 amazing benefits of Aloe Vera